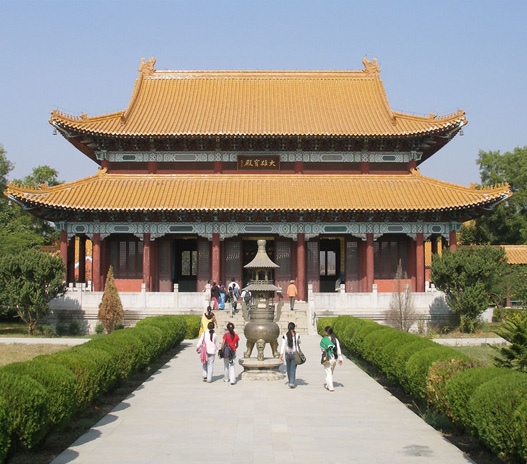 Original name of Gautam Buddha was Siddhartha. He was born in the jungle of Lumbini near Kapilavastu situated in the foothills of Nepal. According to history he was born in 567 BC. Shuddhodana was his father, who was the chief of Shakya Republic. Kapilvastu was his capital. Mahamaya was the name of his mother. He was only seven years old, when his mother died. He was, therefore brought up by his step-mother, Gautami. Since childhood Gautama was of contemplative nature. He had no inclination towards wordly issues. His father, therefore, in order to develop his taste for wordly matters married him to a beautiful girl Yashodhara. He was blessed with a son named Rahul. Still he was least interested in wordly pleasures. So one night he left home in search of knowledge, sacrificing all the wordly pleasures when his wife and son were fast asleep. He was 29 years old then (537 BC). The followers of Buddhism call this happening as "Mahabhinishkraman" or great sacrifice.
There are many tamples in lumbini that are worth visiting. It is also interesting to see a holy pond or puskarini. According to history, it was the same pond where mother of Buddha, mayadevi took the holy dip before gautam Buddha birth. Even Buddha is said to have first bath in this holy pond. We can also see here the ashoka piller and the Bodhi tree
Kapilvastu (in india, up state)
Here lord Buddha spent his childhood and early years of his life. Today's piparahwa is identified ancient kapilvastu. It is 22 km from siddharthnagar district head quarter.
Shravasti- (134 km from lucknow)
The place of twin miracle. Here Lord Buddha showing his supernatural abilities. According to history, Shravasti played host to lord Buddha for 27 years. In the rainy season Lord Buddha himself stayed here and to meditae and preach here.
During Buddha's period, shravasti was one of the big city and capital of the ancient kingdom of Kosla.