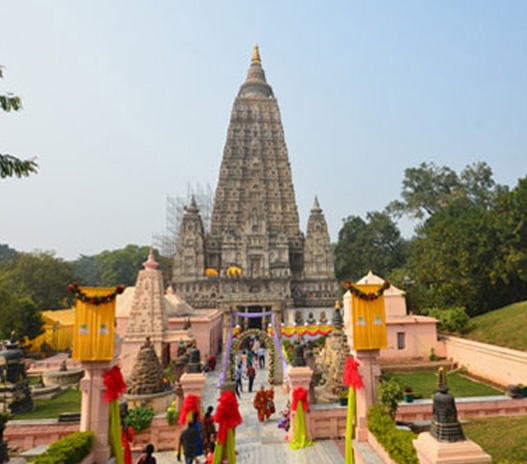 The place of his Enlightment (present time Mahabodhi Temple)- it is one of the most sought after Buddhist in india as well Asia After leaving home, Siddhartha went to rajgriha, the capitalof Magadh. There he sought knowledge from two Brahmins named Alar ad Udrak. But he could not found mental peace. Then he left the forest of Urvela. And After 6 years, one day he seated himself beneath a papal tree in bodh gaya. He got knowledge after strict penance and was called Buddha. This tree called bodhi tree. The Mahabodhi temple the key attraction of the place. The unesco gave it the status of a world heritage site. Apart from temple, Bodhi tree is also most attract devotees. It is set on the banks of river Niranjana.
Rajgir
This the place of the subduing of nalagiri, the angry elephant, through friendliness. Rajgiri was major city of india. Lord Buddha spent several months meditating and preaching at Gridhrakuta (Hill of Vultures). He also deliverd sermons to king Bimbisara of Magadh and many others. On one of the hills is the Satparni cave, where the First Buddhist Council was held.
Nalanda
Nalanda was great centre of Buddhism. A large number of Buddhist students came Nalanda University from many countries. Lord Buddha and Lord Mahavir visited many times here. Nalanda is also supposed to the birth place of one Sariputra, who is the chief followers of Lord Buddha. Nalanda university is again developing by Bihar government.
Vaishali
Here budhha receiving an offering of honey from monkey. It was the capital of the Vajjian Republic of ancient India. Lord Buddha preached here his last sermon in 483 BC. The Second Buddhist Council was conved here by King Kalashok. It contains one of the best-preserved of the Pillars of Ashoka, topped by a single Ashiatic lion.Vaishali is birth place of Lord Mahavira is also sacred to jains.